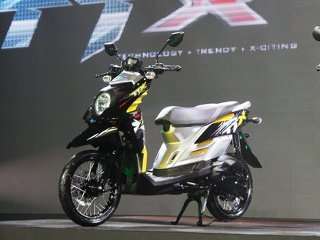 PT Yamaha Indonesia Motor Manufacturing
(YIMM) extends an invitation to the launch of new models in Yogyakarta on 27-28 March 2013. Then species is it?
Sources at PT YIMM mention that the motor is about to be launched is the new automatic X-Ride.
Other sources that have higher positions in PT YIMM even just answer with "heheheee ..," said Eko Prabowo, GM Marketing Communication & Community Development when contacted by text message on her mobile phone.
Please assessed themselves what the word "heheheee ..", obviously this bike is most likely to be launched in the near future. Some preparations have been made by the manufacturer even bearing this tuning fork.
Includes setting up Yamaha X-Ride a modified version to be used as inspiration modified prospective customers targeting the youth segment is active and spirited trend setter.
In Thailand
, this bike is already launched first. There are named TTX 115 which stands for "technology, trendy and x-citing. Homeland but in the name of X-Ride.
The interface looks extreme despite carrying the base engine and the frame of the Mio J, but its design is closer to supermoto genre. Typical sharp design of a futuristic bike trail, but the casting wheel rims and wide tires so other characteristics.
Scooter itself is a crossover that can live in two worlds because it can be taken in urban and high-light offroad took the platform and the base engine from Yamaha Mio J.
As is known, Mio J currently holding a typical injection technology with Yamaha Yamaha Racing Technology that YM-FI JET, diacyl Forged Cylinder and Piston for optimal engine performance in everyday use which makes faster acceleration and more efficient fuel consumption.
Through this bike, PT YIMM claimed to be ready to open new market segments and are ready to take the risk. "Yes we will try to open up new markets," opened Dyonisius Beti, Executive Vice President Director of PT YIMM when encountered early in February 2013 and through the launch of Mio GT.
"To be a trendsetter we must first. Surely there are risks, trying to be a trendsetter or may not be successful," he said confidently.